Welp! My baby was due on January 9th and on that day the final piece of furniture came for her room (the crib). Luckily I went into labor that evening but it delayed me in posting here all the work I had done!
I wanted a room that could last into adult hood and wasn't overly girly. Something that would evolve with her over time and didn't look SO "baby". I wanted very minimal pink too and purple is my most favorite color. I'm thrilled with how this room turned out and I'm currently spending a LOT of time starring at the walls in the basement for my next project! :D
We bought this house last September and I've done a few other add ons since then that I'll get to later. No longer in that nasty place I posted about last time! :)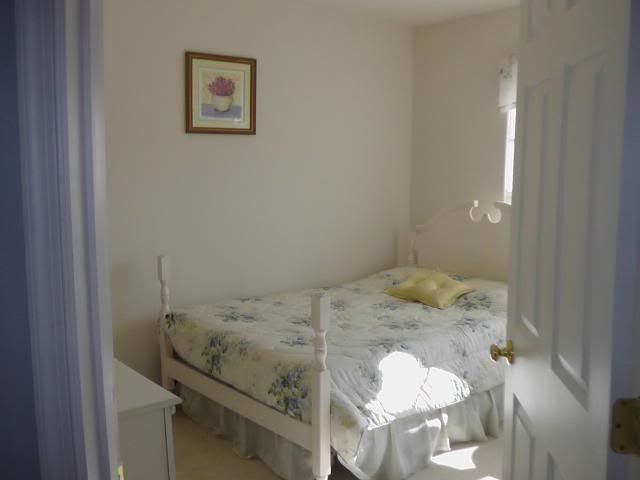 View from the Door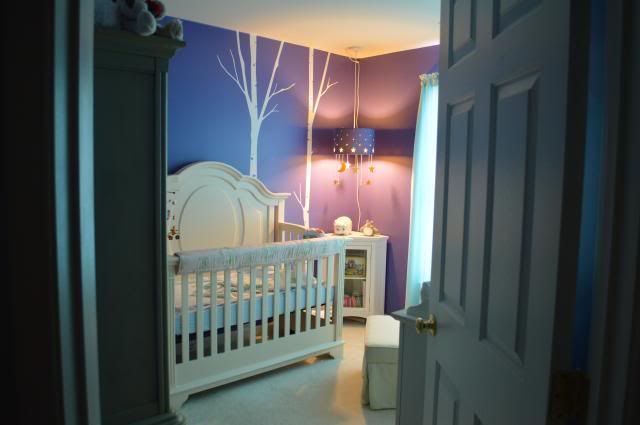 View from the door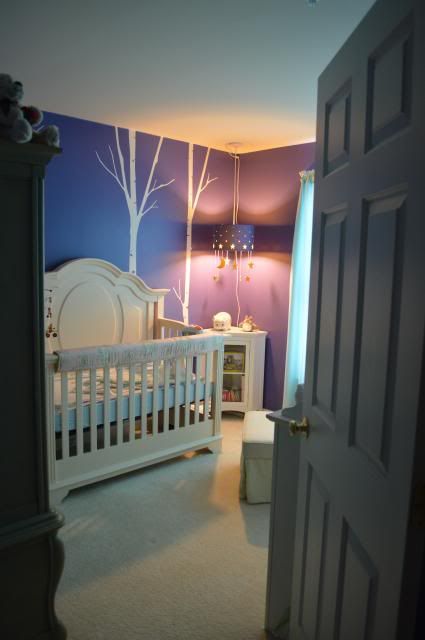 view from the door, still need a crib skirt lol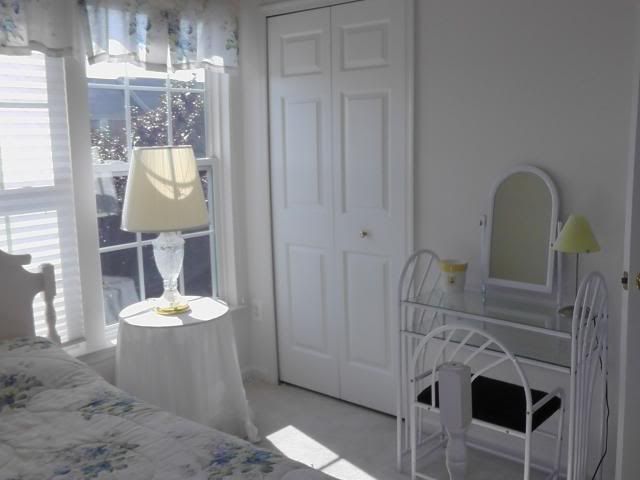 View of closet/window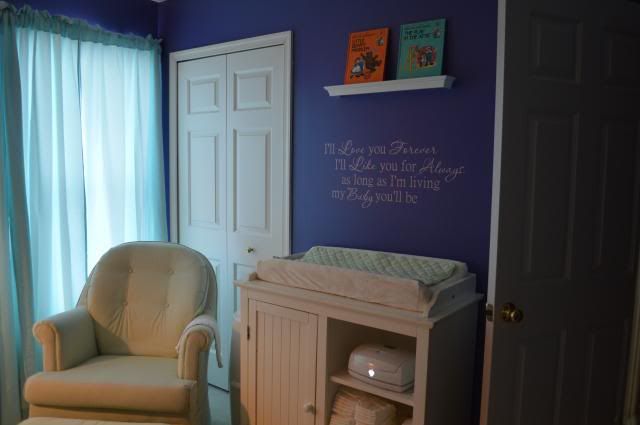 View of closet/window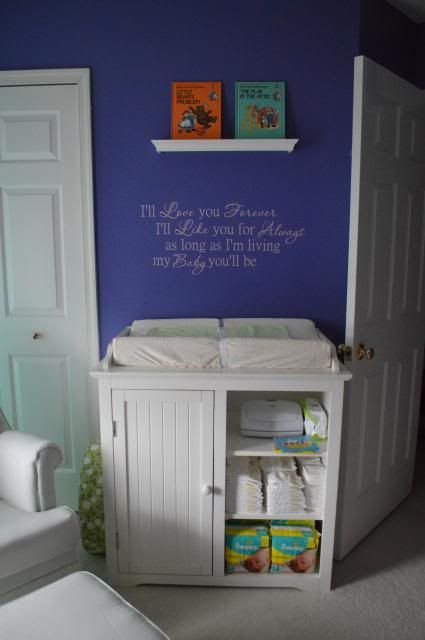 Changing Table. My favorite books as a child was the Raggedy Ann and Andy books and so I had to include some of them in the decor. I just loved this quote. THEN it turned out this was a book my husbands mom read to him ALL the time and was in love with. She nearly cried when she saw it. I had no idea lol.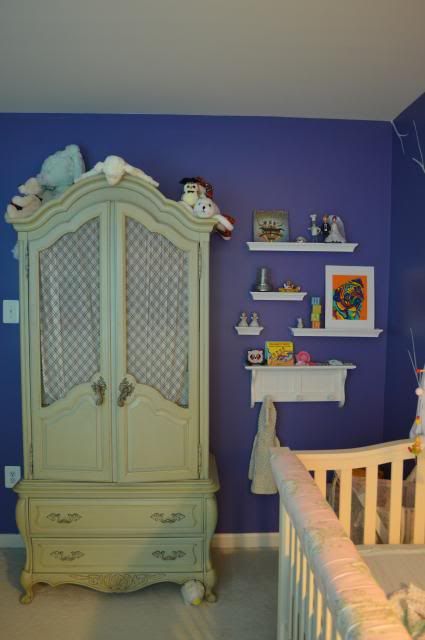 My favorite piece of furniture of ALL time. That armiore was my husbands grandmother and was purchased some time in the 20's. It used to be robin egg blue but she was a heavy smoker. It then passed to my sister in law, my niece, me and now it's my daughters. <3 I love it so dearly. I'm going to replace the white tule with a light purple soon.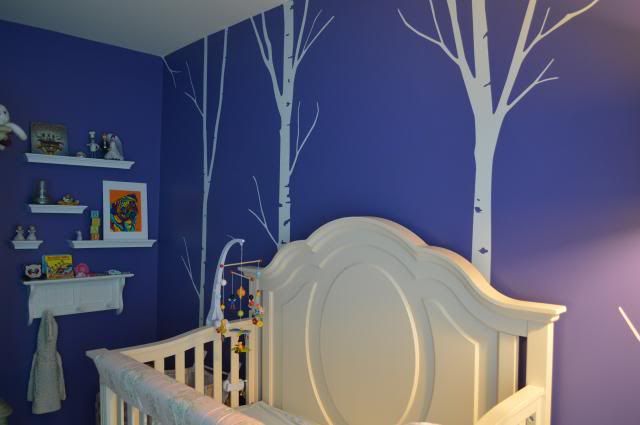 I love love love these wall decals. They came with tons of leaves and some yellow birds but she was a winter baby so I thought this was fitting. It also came with six trees but the other two we're putting in the play room with the leaves and the bird because that'll be a more summery area. :)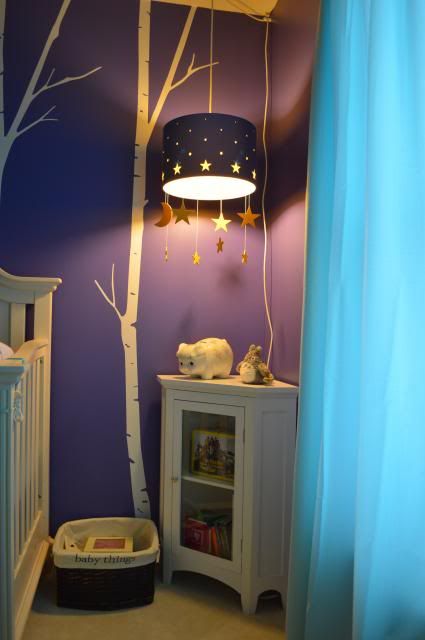 Still need to tie down that cord better...or paint it? IDK.
The piggy bank was mine as a child. The lunch box is obviously because I'm a huge beatles fan. And I love love love Hayao Miyazaki films so my friend got this Totoro for me while he was in Japan. <3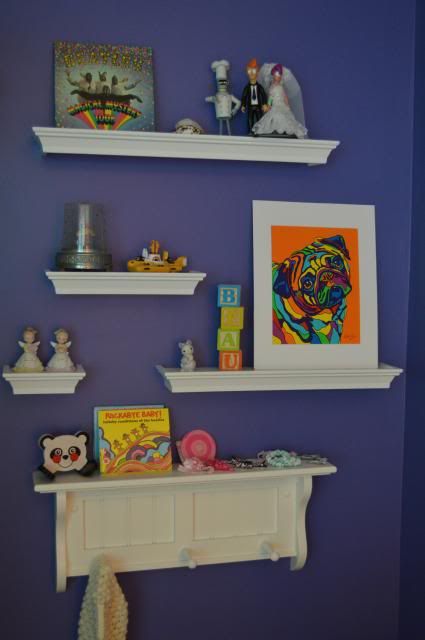 These shelves are full of family treasures.
Top Shelf: My baby girls middle name is Strawberry because our last name is Fields...this is the album that had the song "Strawberry Fields Forever" on it. <3 My uncle gave this to us. The Fry/Leela/Bender were our cake toppers at our wedding in 2011. I made these. <3
Next Shelf: The music box was given to my grandmother when she was a small child. It still works and she gave it to me when I was 16 or so. The yellow submarine is fairly obvious, I think. :)
The next shelf: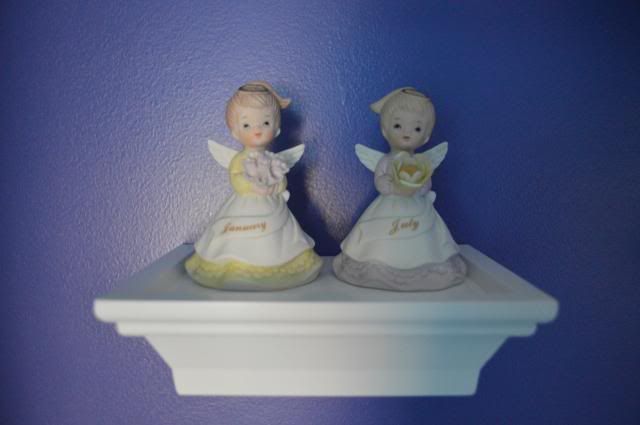 When I was born my grandma bought the entire set of these. So I got one every year for my birthday...the July was given to me on my 18th birthday since that is when I was born. My daughter was born in January and I looked all over the internet for this and found ONE. <3 She almost came in December so I'm thankful she didn't. LOL
The next shelf continued: My daughters first name is BeauLynn but we call her Beau and our pup is half pug so we put this in here. I love the color splash. This was given to us as a gift.
Bottom shelf: well this is a shelf I like to call "all her girly things" which had her sunglasses and pacifiers but we're using those now and so now it's her hair bows and the Beatles lullaby cd that we love. <3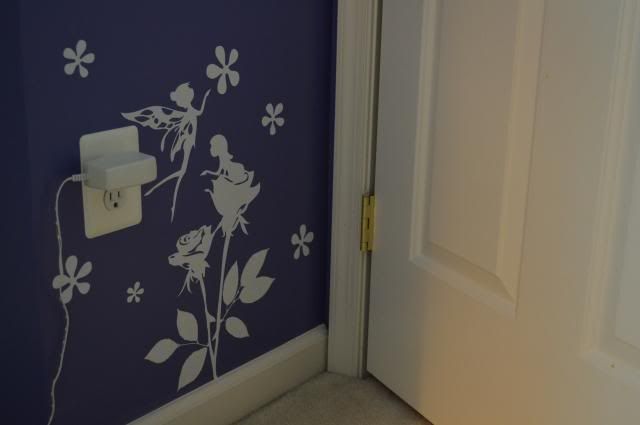 Tucked this behind the door for fun. Came with the birch trees
The before of that corner: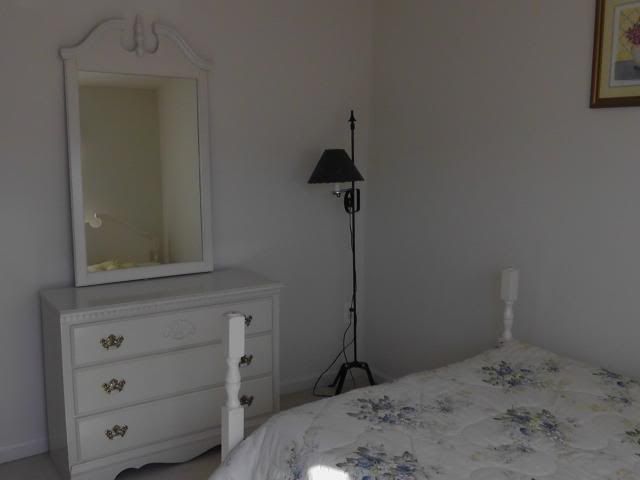 the after of that corner: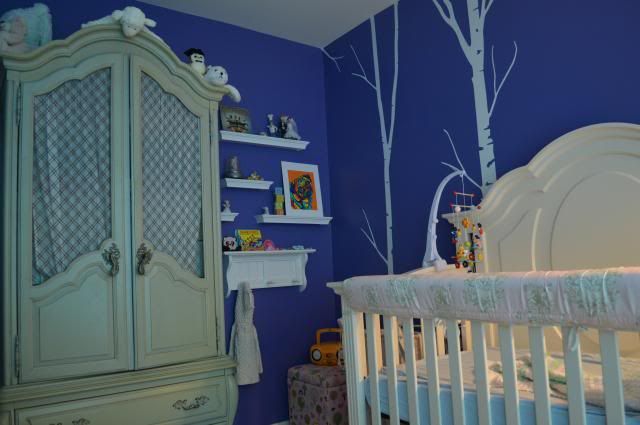 and the girl who occupies the space...:)