My husband recently built a bathroom and a fourth bedroom in our basement. The way the plumbing was set up made the room a bit wonky and we really needed the extra storage space. So he built a hole in the wall but because the stairs upstairs hang low, it's not a normal sized door.

Anyway, our options for a door are tricky. I'm ready to give up! Any suggestions? The picture is under the cut below. I'm thinking for now just putting a heavy curtain over it. It's got a frame around it currently. He got a bifold door like this: http://www.amazon.com/Bi-fold-Louver-Plantation-1x24x80-White/dp/B00AQ0JCT4/ref=sr_1_5?ie=UTF8&qid=1435595194&sr=8-5&keywords=bi-fold+door

But a solid panel, not with the individual wooden pieces...so that he could cut the top off. It fits...but I don't like it because when you open it that takes up a huge amount of space and it's already a tight fit getting stuff in there. SO any options? Basically it has to be able to cut it shorter and it can't have panels and individual wood pieces like the one in the picture because of that. And the only one we found was solid but each piece of wood was about 2 inches thick.

Any help greatly appreciated!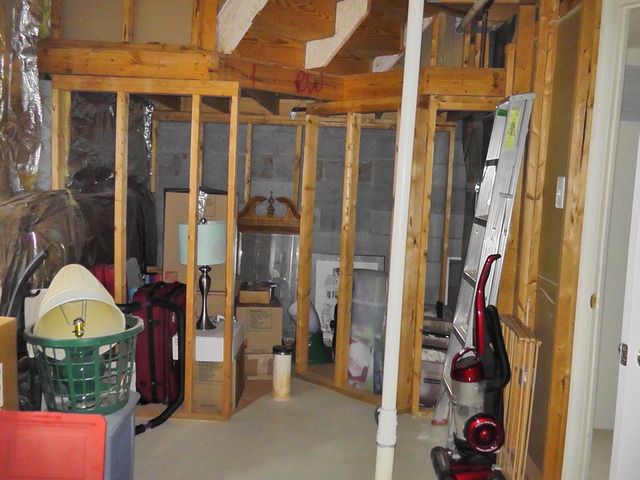 Before he built the walls and created the doorway on the left. you can get an idea of the space behind the toilet, which went where that big pipe is coming out of the ground.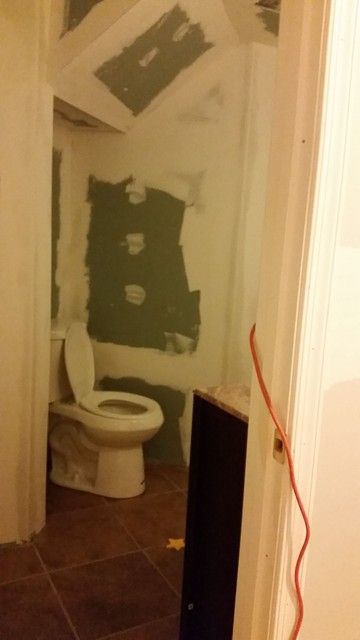 here it is with the walls up and toilet.

AND HERE IS THE DOOR: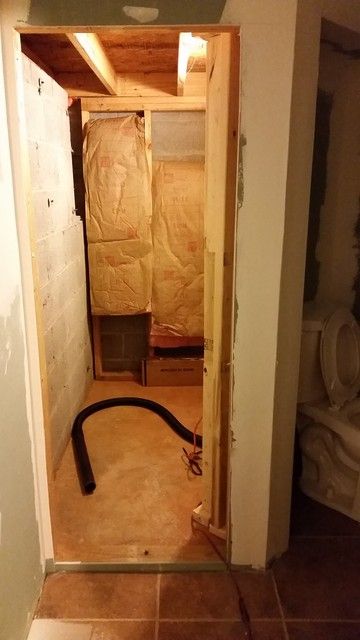 So what could I use here? That'll still be able to get stuff in and out easily enough?